Note
Click here to download the full example code
7. Magnetic source using an electric loop#
Computing the \(E\) and \(H\) fields generated by a magnetic source
We know that we can get the magnetic fields from the electric fields using Faraday's law, see 6. Magnetic field due to an el. source.
However, what about computing the fields generated by a magnetic source? There are two ways we can achieve that:
We create a "magnetic dipole" through an electric loop perpendicular to the defined dipole in a homogeneous VTI fullspace, and compare it to the semi-analytical solution of empymod. (The code empymod is an open-source code which can model CSEM responses for a layered medium including VTI electrical anisotropy, see emsig.xyz.)
import

 

emg3d




import

 

empymod




import

 

numpy

 

as

 

np




import

 

matplotlib.pyplot

 

as

 

plt



Full-space model for a loop dipole#
In order to shorten the build-time of the gallery we use a coarse model. Set coarse_model = False to obtain a result of higher accuracy.
Compare the electric field generated from the magnetic source#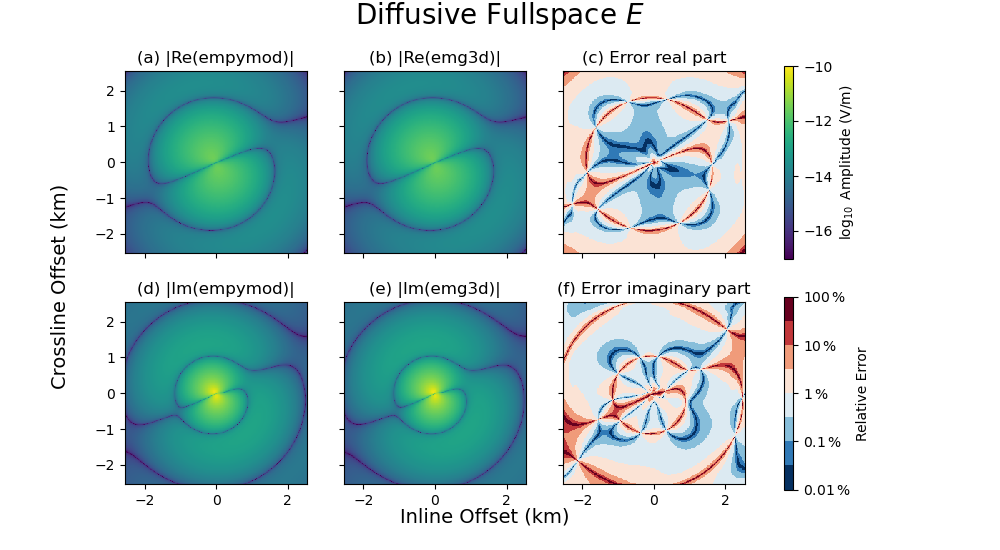 - Source: TxMagneticDipole: 3.1 A;
    e1={-0.5; 0.8; -300.0} m; e2={-0.5; -0.3; -299.3} m
- Frequency: 0.77 Hz
- Electric receivers: z=-400.0 m; θ=25°, φ=10°

Compare the magnetic field generated from the magnetic source#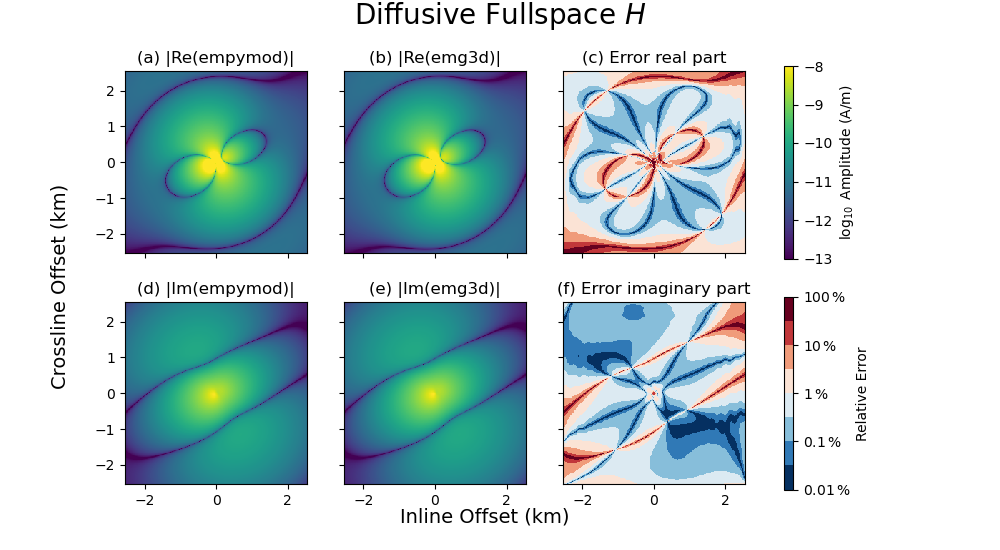 - Source: TxMagneticDipole: 3.1 A;
    e1={-0.5; 0.8; -300.0} m; e2={-0.5; -0.3; -299.3} m
- Frequency: 0.77 Hz
- Magnetic receivers: z=-400.0 m; θ=25°, φ=10°

Wed Aug 31 21:47:57 2022 CEST
OS
Linux
CPU(s)
4
Machine
x86_64
Architecture
64bit
RAM
15.5 GiB
Environment
Python
File system
ext4
Python 3.9.12 | packaged by conda-forge | (main, Mar 24 2022, 23:22:55) [GCC 10.3.0]
numpy
1.22.4
scipy
1.9.0
numba
0.55.2
emg3d
1.8.0
empymod
2.2.0
xarray
2022.6.0
discretize
0.8.2
h5py
3.7.0
matplotlib
3.4.3
tqdm
4.64.0
IPython
8.4.0
Intel(R) oneAPI Math Kernel Library Version 2022.0-Product Build 20211112 for Intel(R) 64 architecture applications
Total running time of the script: ( 0 minutes 16.924 seconds)
Estimated memory usage: 99 MB